Professional Water Softener Repair and Maintenance With a Soft Touch
S&R Heating & Cooling provides a complete range of water softener services, no matter what system make or model you have in your Woodbury home. See us for service on conventional, tank-type and tankless water heaters. We make it a point to have parts on hand to prevent multiple trips to your home or business, so you don't have to take additional time out of your schedule. Before you give up and waste money to replace your softener, call us. Chances are good that we can help with a quick fix.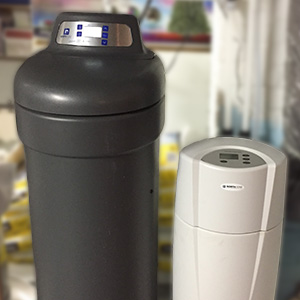 Before Calling for Water Softener Service, Try These Troubleshooting Tips
If you prefer to troubleshoot the softener yourself before calling for service, check the items below. If you find that your equipment isn't visibly broken or leaking, or if you don't want to work on it yourself, call us. S&R technicians will be happy to visit your home to inspect, clean, adjust, repair, and test the softener.
Check to see that household water is flowing through the unit and not accidentally set to "bypass."

Check the power.

Is the control working?

Is debris blocking the tubing?

Check that there's salt in the tank.

Manually try a regeneration cycle—can you see and hear the system go through the cycle?

Watch the timer—do you see wheels turning?

Test or "feel" the water supply—does it feel slimy? Does it produce lather?
Maintain Your Water Softener for Reliable Performance
Ask us about maintenance service for your water softener, which we recommend. We can perform an annual checkup to ensure your softener is working right. We'll clean the salt tank and the resin bed to extend the lifespan of your unit. We'll also check the tank injector and control valve to see if they're plugged with sediment—which can also affect the performance of your softener and the softness of your water.
So whether you're looking for water softener repair or maintenance, we're the guys to call.
Service for These Brands and Products
Although we proudly recommend the quality and dependability of Bryant equipment, we offer service for these brands and products.
Aquiois
Aquasana
Clearwave
Culligan
Calgon
Ecowater
Eddy Electric
Fleck
General Electric
Kinetico
Kenmore
Morton
Natursoft
Northstar
Nuvo
Pelican
State
Surge
Summo
Waterside
WaterBoss
Aquiois
Aquasana
Clearwave
Culligan
Calgon
Ecowater
Eddy Electric
Fleck
General Electric
Kinetico
Kenmore
Morton
Natursoft
Northstar
Nuvo
Pelican
State
Surge
Summo
Waterside
WaterBoss