The Best Water Softener Service in the Northeast Metro
Your water softener helps your clothes feel softer and prevents hard water buildup on dishes. But what happens when your system stops working? The answer is simple: Contact S&R Heating & Cooling. Our water softener service can help repair breakdowns—and prevent them from happening. Find out more about our process below, then call us to set up an appointment.
Professional Water Softener Repair Whenever You Need It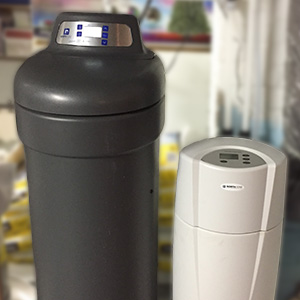 Our team specializes in a wide range of water softener services—no matter what make or model system you have. We respond as quickly as we can when you call, and we always try to keep repair parts in our truck. That way, we don't have to make multiple trips to and from your home. It helps us get your water softener up and running faster, leaving you more time to enjoy its benefits. And that goes for whatever system type you have, be it a conventional unit or a tankless one.
Try These DIY Water Softener Troubleshooting Tips
Problems with your system can be frustrating, but the good news is that there are steps you can take to troubleshoot them yourself. Before you call us for water softener service, try these tips:
Check to see that household water is flowing through the unit and not accidentally set to "bypass."

Check the power.

Is the control working?

Is debris blocking the tubing?

Check that there's salt in the tank.

Manually try a regeneration cycle—can you see and hear the system go through the cycle?

Watch the timer—do you see wheels turning?

Test or "feel" the water supply—does it feel slimy? Does it produce lather?
For Best Results, Schedule Preventive Water Softener Service
There's no better way to care for your water softener than with preventive maintenance. Just one annual checkup can ensure your system is working correctly and improve its lifespan. Our team performs a number of important tasks, including cleaning the salt tank and resin bed, checking the tank injector, and inspecting the control valve. These steps help the unit run smoothly by finding and removing sediment—which can affect both the system's efficiency and the softness of your water.
Products and Brands We Service
We proudly recommend and service Bryant® equipment, but we offer service to brands and products of all kinds, including:
Aquiois
Aquasana
Clearwave
Culligan
Calgon
Ecowater
Eddy Electric
Fleck
General Electric
Kinetico
Kenmore
Morton
Natursoft
Northstar
Nuvo
Pelican
State
Surge
Summo
Waterside
WaterBoss
Aquiois
Aquasana
Clearwave
Culligan
Calgon
Ecowater
Eddy Electric
Fleck
General Electric
Kinetico
Kenmore
Morton
Natursoft
Northstar
Nuvo
Pelican
State
Surge
Summo
Waterside
WaterBoss