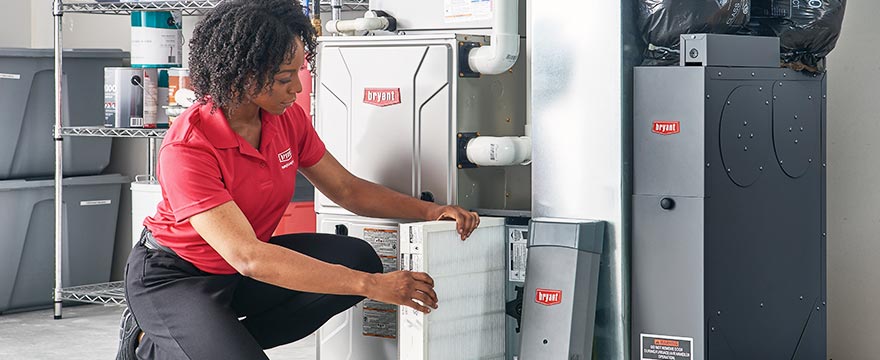 Your Top Indoor Air Quality FAQs Answered
The quality of your indoor air is one of the most important factors of your home comfort and health. The experts at S&R Heating & Cooling want to help you learn more about it—which is why we're answering your top indoor air quality FAQs. Discover how you can improve your air quality at home, then call us at 651-429-0001 or contact us online to set up an appointment with our techs.
Is My Indoor Air Really More Polluted Than Outdoor Air?
Yes! The Environmental Protection Agency (EPA) has found that indoor air is two to five times more polluted than outdoor air. It's a good idea to open your windows every so often to bring fresh air into your house.
What Are the Most Common Indoor Air Pollutants?
It varies from home to home, as pollutants can be caused by anything from cooking to household cleaners, but the most common culprits include:
S&R's experts are always here to help you find the solution that's right for your home.
What Can I Do to Improve My Air Quality?
Vacuuming your house weekly will significantly reduce the amount of pollutants and allergens that have settled and help maintain a fresh and clean smell in the air. If you have pets or allow smoking indoors, vacuuming a few times a week is highly recommended. Houseplants are another great way to improve the air in your home—research suggests that one houseplant per 100 square feet is best. This will provide extra oxygen and decrease the amount of harmful airborne pollutants.
How Often Should I Change My Air Filter?
Your air filter helps catch many airborne contaminants that could otherwise float through your house and make you sick—however, those pollutants can dirty the filter and make it hard for air to pass through it. For optimal indoor air quality and airflow, we recommend replacing the filter every one to three months, or more often if you have pets or smoke indoors.
What Should the Humidity Level Be in My House?
Ideally, your indoor humidity levels should fall somewhere between 35 and 50 percent all year long.
Are Programmable Thermostats Worth the Cost?
Yes. Xcel Energy—a product we highly recommend—promotes a 20 percent energy savings, depending on how you program it. While it may have a decent upfront cost, you'll definitely save money in the long run. Other companies might not recommend these types of thermostats because it takes time to learn how they work. Our technicians are happy to walk you through how to use the device and help you program it.
How Often Should I Run My Fan?
It depends on your preference—setting it to "Auto" will have the fan running only until your desired temperature is reached. Because the fan isn't constantly running, your energy bills won't be as high. If you set the fan to "On," it will continuously run, providing better indoor air filtration and a more even temperature across your home.
Do I Need to Use a Humidifier in Winter?
Just like the humid air in summer seems to add a few degrees to the temperature, the same goes for indoor air. This enables you to set your furnace to a lower temperature while still achieving maximum warmth and comfort. Dry air can cause sore throats, dry skin, itchy eyes, and bloody noses—it can also be a contributing factor in catching a cold or flu. A healthy level of humidity is between 35 and 50 percent. Too much humidity can increase airborne mold, bacteria, and fungi that, when ingested, can lead to other health concerns like infections, asthma, allergies, and other respiratory illnesses.
Will Better Indoor Air Quality Help My Allergies?
There are several air quality solutions that can help you stop sniffling and sneezing. For example, air purifiers can help capture and kill contaminants such as dust and dander, while UV lamps are designed to kill mold and pollen spores. Humidifiers and dehumidifiers can also help get rid of certain pollutants that thrive in excessively humid air. Not sure where to start? S&R can help guide you in the right direction.
Brands We Service
Armstrong Air
American Standard
Amana
Aspen
Bryant
Broan
Blue Star
Comfortmaker
Carrier
Coleman
Continental
Day & Night
Daiken
Ducane
Emerson
Everest
Evcon
Electrolux
Fedders
Fraser-Johnston
Frigidaire
Fujitsu
General Electric
Goodman
Gibson
Heil
Hitachi
Intertherm
Johnstone
Janitrol
Kenmore
Lennox
Luxaire
LG
Maytag
Montgomery Ward
Mr. Slim
Mitsubishi Electric
Napoleon
Payne
Panasonic
Pinnacle
Rheem
Ruud
Sears
Tappan
Thermo Pride
Trane
Tempstar
Westinghouse
WeatherKing
Whirlpool
York
Armstrong Air
American Standard
Amana
Aspen
Bryant
Broan
Blue Star
Comfortmaker
Carrier
Coleman
Continental
Day & Night
Daiken
Ducane
Emerson
Everest
Evcon
Electrolux
Fedders
Fraser-Johnston
Frigidaire
Fujitsu
General Electric
Goodman
Gibson
Heil
Hitachi
Intertherm
Johnstone
Janitrol
Kenmore
Lennox
Luxaire
LG
Maytag
Montgomery Ward
Mr. Slim
Mitsubishi Electric
Napoleon
Payne
Panasonic
Pinnacle
Rheem
Ruud
Sears
Tappan
Thermo Pride
Trane
Tempstar
Westinghouse
WeatherKing
Whirlpool
York