Humidifiers and Dehumidifiers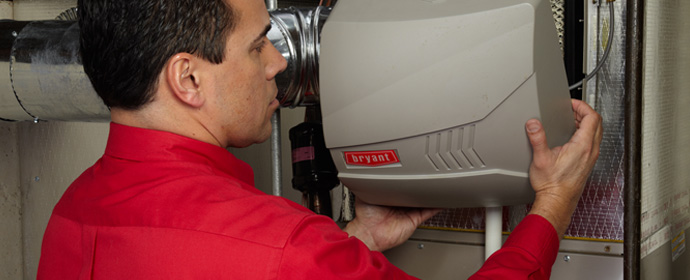 Control the Humidity to Control Your Comfort: Whole-Home Humidifiers and Dehumidifiers
Humidity levels in your home play an important part in air quality and your comfort. Too little humidity and you run the risk of static electricity, elevated energy costs, home damage, and even increased respiratory problems—all caused by dry air. Other health-related issues low humidity can cause are sore throats, itchy skins, dry eyes, and painful static shocks.
The Solution For Too Little Humidity in Your Woodbury Home
Adding a whole-home humidifier from Aprilaire to your central heating and cooling system will provide comfort throughout your home by delivering the perfect amount of moisture. You'll be more comfortable at lower thermostat settings, which will save you money on utility bills. In fact, for every degree you lower your thermostat, you can save up to four percent on your heating bill. For maximum health, your home should maintain an optimum humidity level between 35 to 50 percent.
Benefits of Whole-Home Humidifiers:
Provide whole-home comfort

Humidify your entire home

Alleviate static electricity

Feel warmer at lower temperatures

Save money on energy bills

Spend pennies to operate

Improve your air quality

Fend off colds, respiratory problems, and other infections
Too Much Moisture Can Be As Bad As Too Little
While a little moisture can be beneficial for your health and home, excess humidity can lead to problems. Too much moisture can lead to mold and mildew, musty-smelling rooms, and warped doors and wood furniture. Additionally, your skin feels sticky in the summer and clammy in the winter. Controlling moisture and maintaining proper humidity levels is the key to comfort.
Benefits of Whole-Home Dehumidifiers:
Alleviate discomfort due to humid indoor climate

Stop electronic equipment malfunctions

Prevent moisture damage to furniture, windows, and more

Feel cooler at higher temperatures

Improve ventilation

Stop favorable conditions for growth of microorganisms, mold, and fungus
For more information about humidifiers, dehumidifiers, and air purifiers, please call the comfort specialists at S&R Heating & Cooling today.
Service for These Brands and Products
Although we proudly recommend Bryant products to Woodbury homeowners, we offer repair service for these brands and equipment.
Aprilaire
Air Bear
Bryant
Carrier
GeneralAire
ENERGY STAR
Honeywell
Healthy Climate
Lennox
Panasonic
Second Wind
Trion
Trane
Vance
Venmar
Aprilaire
Air Bear
Bryant
Carrier
GeneralAire
ENERGY STAR
Honeywell
Healthy Climate
Lennox
Panasonic
Second Wind
Trion
Trane
Vance
Venmar