Humidifiers and Dehumidifiers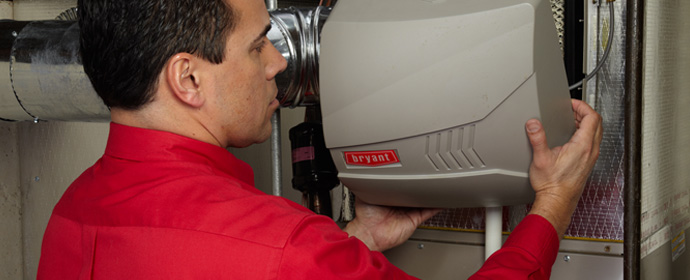 How You Can Benefit From a Humidifier and Dehumidifier Combo
You may think of humidity as a bad thing, but it actually plays an important role in both your indoor air quality and comfort. But how much is necessary? How can you learn how high your home humidity levels are? Just ask the Bryant® pros at S&R Heating & Cooling. Below, we share how a humidifier and dehumidifier combo can save your home and your comfort. Call us at 651-429-0001 with questions.
What Happens When You Have Too Little Humidity?
In winter, the air does more than just get cold—it also gets dry. That lack of moisture in the air can cause many health and comfort problems, including sore throats, dry skin, increased static electricity, and even certain respiratory problems. Dry air also makes it easier for airborne viruses and contaminants to circulate, leading to colds and the flu.
How a Whole-Home Humidifier Fixes Those Problems
A humidifier releases moisture back into your air, which helps you avoid problems with dry air in the winter. It connects to your HVAC and water systems to run automatically, increasing your comfort at the same time.
Humidifiers benefit you in so many ways, including:
Providing whole-home comfort

Alleviating excess static electricity

Improving your indoor air quality

Fending off colds and respiratory problems
And with more moisture in the air, your home will actually feel warmer. It's another great humidifier benefit—that warm feeling means you can set your thermostat lower, helping you save even more on energy costs. In fact, for every degree you lower your thermostat, you can save up to four percent on your heating bill.
What Happens When Your Home Is Too Humid?
We all know that hot and muggy feeling that comes with humid days. When your air has too much moisture, that same discomfort can happen in your own home. Excess moisture can also lead to mold and mildew, musty-smelling rooms, and warped doors and wood furniture.
How a Whole-Home Dehumidifier Fixes Those Problems
Dehumidifiers are the perfect solution to high humidity. These systems help remove excess moisture from your air, getting rid of that muggy feeling and returning comfort to your home.
Benefits include:
Preventing moisture damage to furniture, windows, and more

Improving ventilation

Reducing mold and fungus growth

Stopping electronic equipment malfunctions
A dehumidifier can also help your home feel cooler—less moisture means less warmth. That comfort means you won't have to blast your AC, helping you save on your monthly energy bills in the summer.
Humidifiers and Dehumidifiers We Service
We proudly recommend Bryant products to homeowners, but we also service these brands and equipment:
Aprilaire
Air Bear
Bryant
Carrier
GeneralAire
ENERGY STAR
Honeywell
Healthy Climate
Lennox
Panasonic
Second Wind
Trion
Trane
Vance
Venmar
Aprilaire
Air Bear
Bryant
Carrier
GeneralAire
ENERGY STAR
Honeywell
Healthy Climate
Lennox
Panasonic
Second Wind
Trion
Trane
Vance
Venmar
Take Advantage of Humidifier and Dehumidifier Benefits Today
For maximum health, your home should maintain an optimum humidity level—between 35 and 50 percent. So if your moisture doesn't fall in that range, give us a call or contact us online. We're happy to help.