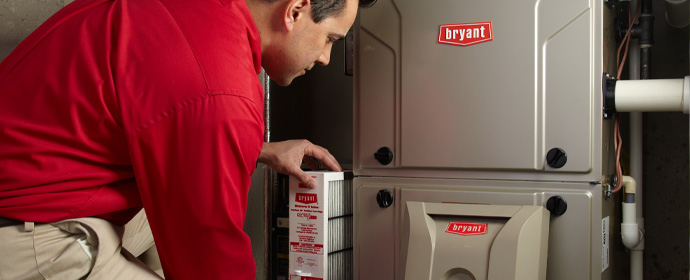 Replace Your Air Filter for Energy-Efficient HVAC Systems
How often do you change your air filter? If it's been a while since you replaced it—or you don't remember the last time you did—now is the perfect time to do so. Changing it regularly can have a large impact on your comfort, your indoor air quality, and even your furnace and AC. The Bryant® experts here at S&R Heating & Cooling explain what you need to know about air filters below. See why they're so important and call us with questions.
Why Is Changing Your Air Filter So Vital?
In short, it can help reduce the chance of system breakdowns. Your filter is designed to catch airborne contaminants like dirt and dust as they pass through your ductwork. This helps improve your indoor air quality, but it also dirties and clogs the filter. If that filter isn't replaced regularly, it can block airflow. That blockage forces your systems to work harder to move air, resulting in unnecessary stress on those units—potentially causing them to stop working. By replacing your air filter at proper intervals, you can avoid those breakdowns and even improve energy efficiency.
How Often Should I Change My Filter?
If you use a standard one-inch air filter, replace it every month. If you have a four-inch pleated filter, we recommend changing it once every six months. However, these are suggestions—you may need to replace your filter more often if you have pets or someone in your home smokes or suffers from allergies.
S&R Heating Has the Replacement Filters You Need—and More
Not sure how often to change your filter or what type you need? Ask our experts. It can be hard to find the correct size filter for your Bryant systems at your local home improvement store. That's why our pros recommend purchasing authentic Bryant air filters straight from us. We're the best resource for pricing and availability—and can also help finding replacement water panels, UV lights, and more.
With more than 30 years of experience, we guarantee to help improve your indoor air quality. Simply call or contact us online to get started.