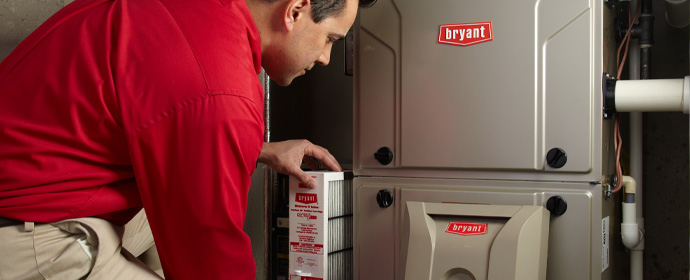 Change Your Filter at the Recommended Intervals to Reduce the Chance for Breakdowns
Having trouble with your air conditioner or furnace? Notice you're feeling uncomfortable and having to bump the thermostat up or down more often? A blocked air filter might be to blame—it makes your system work harder to move air, resulting in higher energy bills. It's crucial to change your air filter at the proper intervals to keep your system running efficiently and clean the air circulating through your home. Replacing your filter regularly also reduces your chance for breakdowns because your system cycles correctly.
If you're not sure how often to change your filter or what type you need, we can help. Our experts can tell you which best practices are right for your system and comfort needs. Most standard one-inch filters should be replaced monthly, but the four-inch, pleated filters we recommend can last longer—up to six months. However, we may recommend you change them more often if someone in your home smokes or suffers from allergies, or if you have pets.
S&R Heating Has the Replacement Filters You Need, Plus More
Our Woodbury customers have noticed that you can't find the correct size furnace filter for your Bryant® heating and cooling system at the local home improvement store. This is because many of the filters shipped with Bryant units are made from higher-quality materials than those of disposable filters you find in retail stores.
That's why it makes sense to purchase authentic Bryant replacement filters from S&R Heating. We're the best resource for pricing and availability, and can also help if you need other replacement parts—like water panels or UV lights. Our 30+ years of experience guarantees we can improve your indoor air quality—contact us today if you have questions or need a replacement filter.