Here's Why Your Home Comfort Begins With a Humidifier
Here's Why Your Home Comfort Begins With a Humidifier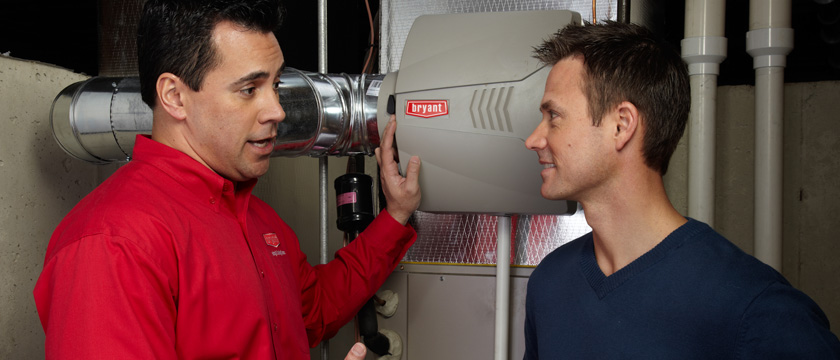 Winter does more than make your home cold—it also dries out your indoor air. It's not only uncomfortable, but it can also cause health problems for your home and family. Fortunately, there's a simple solution for dry air: a home humidifier. From helping you sleep better to maintaining good health, here's why home comfort begins with a humidifier.
Prevent the Spread of Airborne Viruses and Allergies
Studies show that keeping your indoor humidity levels in the correct range (about 40 to 50 percent) can greatly reduce the effect of airborne viruses in your home. This is because moisture in the air helps prevent the movement of germs. That moisture also helps prevent the spread of harmful contaminants and particulates that aggravate allergies.
Help Relieve Dry and Flaky Skin
Dry air also dries out your skin, leaving it irritated and itchy. Because a humidifier adds moisture back into your home, it can help improve skin health, chapped lips, and dry eyes.
Warm up Your Home
Every homeowner's main concern during the winter is keeping their house warm. The good news is that a home humidifier helps make your home feel warmer while also improving its air quality. This also comes with a bonus benefit: because your house feels cozier, you can lower your thermostat setting, meaning you could save more on heating costs.
Keep Your Furniture in Good Shape
Just like your skin, any wood furniture you have will dry out without the proper humidity level. Joints in tables or chairs can crack and loosen, making them unsafe to use. Doors can even change in size and "stick" in frames. A humidifier can fix those issues, keeping your wooden furnishings stable and looking great.
Trust Our Pros to Maintain Your Indoor Air Quality
At S&R Heating & Cooling, our experts are jacks-of-all-trades. Not only can we service and install heating and cooling units—including Bryant® systems—we can also help you improve your indoor air quality with our humidifiers, dehumidifiers, and purifiers (among other products). If your home is too dry this winter, give our team a call at 651-429-0001 or contact us online.