Furnace Tuneup 411—Here's What to Expect From Routine Maintenance
Furnace Tuneup 411—Here's What to Expect From Routine Maintenance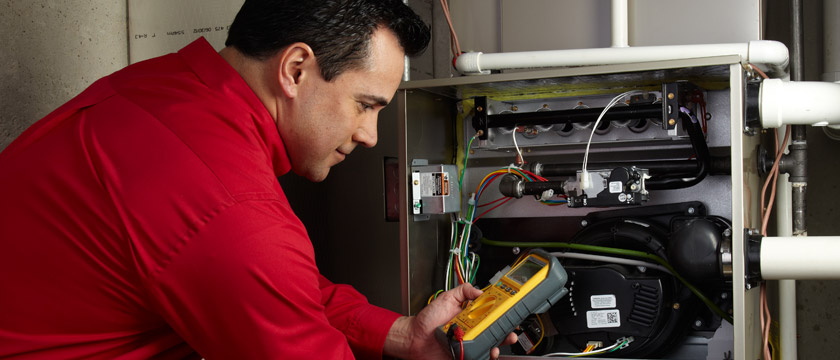 Your furnace will run practically nonstop when winter hits. Because you use it so much, it goes through a lot of wear and tear. That's why the experts at S&R Heating & Cooling recommend getting an annual furnace tuneup. It comes loaded with benefits, including:
Increasing your furnace's lifespan
Cutting down the likelihood of future breakdowns
Boosting your unit's energy-efficiency
Saving you money on energy costs
But what actually goes into furnace maintenance? What can you expect from the job?
Inspection
The first step of our furnace tuneup service is visual. On the outside of your furnace, we ensure there's no black soot or combustion residue. On the inside, we inspect several facets, including ensuring the burner flame is steady blue (not yellow or orange), checking the water condenser for corrosion, and confirming gas valve and limit safety.
Additionally, parts will be examined for blockages and proper connections, including:
Vent systems
Air intake grills
Blowers and blower wheels
Tight electrical connections
Thorough Cleaning and Testing
With time and frequent usage, your furnace will collect dirt and dust, which can cause it to stop working if left unchecked. Part of a furnace tuneup includes checking the unit, blower, fan blades, drain line, and evaporator coil and cleaning them when necessary. Our experts will also drain and clean traps and tubing, as well as clean burners and sensors to ensure the system operates as efficiently as possible.
Once everything is clean, we'll test it out to ensure it works and prevents potential leaks and harmful fumes from circulating through your home. That includes checks for:
Carbon monoxide
Proper fuel pressure
Airflow
Thermostat controls
Filter Replacement
Keep your indoor air clean, healthy, and moving properly by cleaning or replacing your air filter regularly—change standard one-inch filters once every one to three months, or once every six to 12 months for high-efficiency filters.
Schedule Your Furnace Tuneup With the Pros at S&R Heating
At S&R Heating, we do more than repair and install furnaces—we do everything we can to make sure your system keeps you warm and comfortable. That's why we offer maintenance agreements that give your system the service it deserves on an annual or biannual basis. Call us today at 651-429-0001 or contact us online to see how a good furnace tuneup can make a world of difference for your home comfort and budget.