Beat Wild Temperature Swings With a Wi-Fi Thermostat
Beat Wild Temperature Swings With a Wi-Fi Thermostat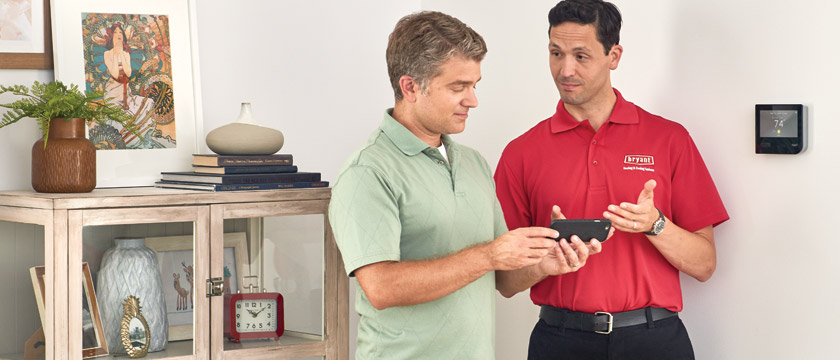 Fall in the Midwest usually comes with unpredictable weather. One day could dip to the chilly 40s, and the next it could shoot back up into the 70s. These wild temperature swings can make it hard for you to maintain a consistently comfortable home. Thankfully, there's a simple solution to this problem—a Wi-Fi thermostat.
Change Settings From Anywhere at Anytime
Gone are the days of standing in front of a thermostat and adjusting the dial by hand. With a Wi-Fi thermostat, you don't even have to be home to change the temperature. Simply log in to the proper app and fiddle with the settings as you please. Whether you're coming home from a business trip and want your house a certain temperature when you get there or you're in bed and want your room to be just a little warmer, you can control it all from the palm of your hand.
Get Alerts When Something Is "Off"
Wi-Fi thermostats can ensure that everything is working correctly with your heating and cooling systems—they'll even email you to let you know if something is "off." For example, if temperatures fall suddenly, your thermostat will send you an alert so you can log in and warm up your home. There's no worrying about pipes or pets suffering from unexpected temperature shifts. The same is true for system breakdowns—you'll be notified the moment they happen so you can call a professional to repair it ASAP.
Improve Your Home's Energy Efficiency
A Wi-Fi thermostat wastes much less energy trying to keep up with varying temperatures, which in turn means you save money on heating costs. You can also set your thermostat on a schedule, so it adjusts the temperature based on when you're at or away from home.
Curious What a Wi-Fi Thermostat Can Do for You? Let's Talk
There's a reason why homeowners turn to S&R Heating & Cooling for the latest Bryant® thermostats and controls. No matter what furnace or air conditioner you use, our experts can find the perfect Wi-Fi thermostat for your home, lifestyle, and budget. Let's talk—call us at 651-429-0001 or contact us online.