Here's How Your Fireplace Affects Your Home Heating System
Here's How Your Fireplace Affects Your Home Heating System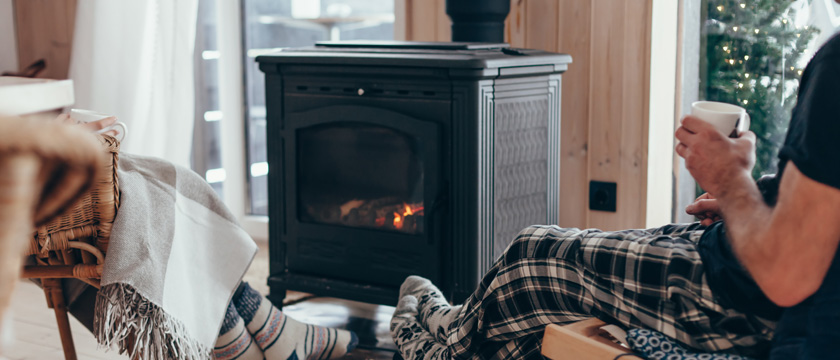 It's common for homeowners to use both their home heating system and fireplace in the wintertime to double up on their warmth. But how does starting a fire affect your furnace's or boiler's functionality and effectiveness? In short, it depends on what type of fireplace you have—wood-burning, gas-powered, or electric. While they can all add heat, each one affects your home comfort and heating in different ways.
Wood-Burning Fireplaces
A crackling wood fire provides great ambiance, but it doesn't add a lot of heat to your home. In fact, these fireplaces actually let more heat out than they add. They require proper venting in order to safely allow smoke to escape, causing your warm indoor air to escape through your chimney. As the warm air leaves, the cold outdoor air gets sucked back inside, making your furnace work extra hard to reheat it. All that extra work and stress can cause your heating bills to rise and even result in a furnace that needs more frequent repairs.
Gas-Powered Fireplaces
These are much more efficient than their wood-burning counterparts. Because a gas fireplace is enclosed, you don't lose warm indoor air while it runs. This enables the system to give off much more heat, so it works in conjunction with your furnace or boiler rather than against it. Converters, insulation, and glass doors also help these fireplaces burn cleaner and more efficiently. Just make sure the flue isn't obstructed—otherwise, you may run into gas buildup or carbon monoxide issues.
Electric Fireplaces
Just like gas-powered systems, electric fireplaces also help take the heating pressure off your furnace or boiler. Some models are also mobile, so you can use them to boost the warmth in any room you want. Know that these units can add energy costs to your bill, as electricity typically costs more than natural gas or wood.
For All Your Heating Questions, Choose S&R's Experts
At S&R Heating & Cooling, home comfort isn't just our business—it's what we're good at. When you need more information about your heating system and how it might affect you and your family, our experts are happy to help you out. As a highly respected Bryant® Factory Authorized Dealer, we're proud to be your go-to home comfort provider. Call us today at 651-429-0001 or contact us online.