4 Common Furnace Problems (and How to Fix Them)
4 Common Furnace Problems (and How to Fix Them)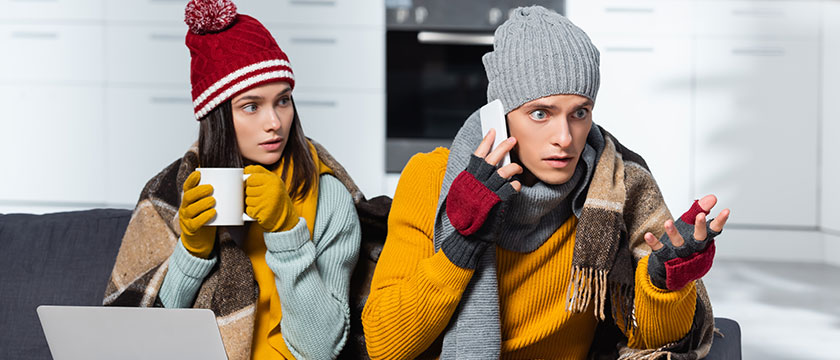 With winter upon us, your heating system will get a good workout in the months ahead. To help you avoid running into any furnace problems, the pros at S&R Heating & Cooling are here with four common heating issues you might face—and how to solve them. Follow our furnace troubleshooting guide below and call 651-429-0001 for emergency service.
#1 – The Furnace Will Not Turn On With the Thermostat
A furnace that won't turn on is frustrating, but the good news is that there may be a few simple ways to fix it:
Change the batteries in your thermostat
Make sure the thermostat is set to "heat" and not "cool"
Turn up the temperature a few degrees to check if your furnace responds
Check your circuit breaker to see if the furnace switch is tripped—if so, turn it back on
#2 – Your Furnace Will Not Produce Heat
If your heating system will turn on but won't send warm air, a dirty air filter could be to blame. As air flows through your filter, it catches small airborne particles and contaminants that pollute your home. These contaminants build up on the filter over time, blocking air flow and preventing precious heat from reaching you. Swap out your filter every one to three months to ensure clean and warm air all winter long.
#3 – The System Makes Strange Noises When It Operates
Does your furnace go bump in the night? It's normal for it to make certain sounds when it boots up. In fact, it should—if it's completely silent, it may not even be on at all. But if it's making rattling, scraping, or grinding noises, something more serious could be wrong with your unit, like a slipped belt or a clogged burner. If you hear any of those scary sounds, give our team a call for a quick, safe, and efficient furnace repair.
#4 – The Unit Cycles On and Off
A furnace that constantly turns on and off could stem from a couple of the issues mentioned above—namely a dirty air filter or a bad thermostat setting. Unfortunately, it could also be due to faulty or broken furnace parts. If your system is still cycling too much after you've swapped out your filter and adjusted your thermostat settings, call one of our experts to take a deeper look at the issue.
Trust S&R Heating to Help You Battle Common Furnace Problems
When it comes to electric or gas furnace troubleshooting, there's no team better than ours. As a Bryant® Factory Authorized Dealer, we'll help you do whatever it takes to keep the heat on all season long. From our maintenance service that helps prevent these furnace problems to expert repair that fixes them, we've got your back. Call us today at 651-429-0001 or contact us online.